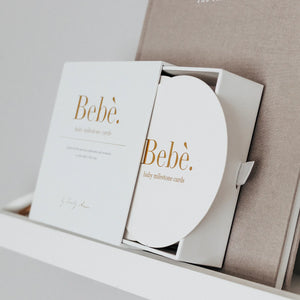 Baby Milestone Cards
Sale price Price $39.95 Regular price
Create everlasting memories of the most precious moments with your baby.
Capture the important milestones of their first year with this timeless set of 43 Bebé Baby Milestone Cards. These precious cards will encourage you to take photos of all the special memories and milestones in your baby's first year.
Each card highlights special milestones, from the first day they are born to when they turn 1, whilst also capturing special occasions and important moments. Features the big milestones like  "My first Mother's Day" and "I giggled for the first time".
Our Bebé Baby Milestone Cards pair beautifully with our Bebè Keepsake Journal
Physical attributes:
43 round milestone cards (12cm diameter)

Printed on archival quality, thick 450gsm card stock

Clean, minimalist design
Small hand-drawn illustrations on each card
Matte lamination to reduce glare in photos
Gender-neutral colours 
Gold foil detailing on the back of every card
Diverse and gender-neutral, suitable for same-sex couples and single parents
Packaged in a luxurious keepsake drawer box with a ribbon handle and gold foil accents
Tips for taking beautiful milestone photos
The set contains the following cards:
My love
Hello world
My princess
My prince
1 day old
1 - 12 weeks old
1 - 12 months old
1 year old
Outfit of the day
I crawled for the first time
I walked for the first time
I rolled over for the first time
I sat up for the first time
I slept through the night
I got my first tooth today
My first Mother's Day
My first Father's day
Thank you (a nice way to thank people for gifts)
I love you
3 extra cards with meaningful quotes
A card with tips for taking great milestone photos
Our Bebé milestone cards come packaged in a beautiful keepsake box. It makes the perfect gift for an expecting friend, a loved one's baby shower, or for a newborn baby that will be treasured for years to come.
 *The cards are not a toy and are not intended for children to play with or chew on. Please use under adult supervision.