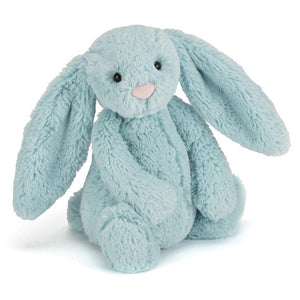 Bashful Aqua Bunny Medium
Sale price Price $39.95 Regular price
Super-cuddly and full of flopsiness, Bashful Aqua Bunny is a great cotside companion. Amazingly soft and always ready to snuggle, he's a lop-eared sweetheart who's perfect for beddybyes.
Each Bashful has a bag of beads incorporated into its design to help make it sit. All beads are enclosed within a cotton fibre inner bag. Beads are made of polyethylene (HDPE: high density polyethylene).
Suitable from birth.