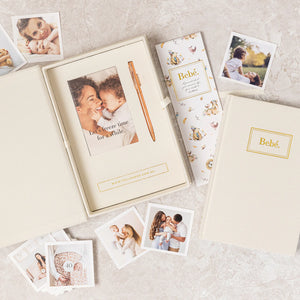 Keepsake Bebe Book Ivory
Sale price Price $69.95 Regular price
Capture all the precious moments in your child's life from birth to adulthood.

Our Bebé Luxury Journal is a baby book designed to capture every moment of your child's life. This beautiful, timeless baby book is made to record all the cherished details from your pregnancy to when they turn 18 years old. Filled with helpful prompts, lined pages, and picture spaces, it gives you a place to document the details of your child's life. Available in four gender-neutral colours: Mocha, Ivory, Oatmeal, and Amber.
Every journal comes beautifully packaged in a luxurious linen keepsake box with a rose gold pen inside, covered in beautiful linen fabric and stamped with gold foil accents on the front, back and spine. The box also has a booklet with top journaling tips. Making the most beautiful gift for any new parent. 
The Bebé Luxury Journal is professionally pressed and embossed with gold foil and includes a matching ribbon bookmark. This journal features classic, timeless design elements that won't date in the years to come. Made with high-quality materials, this bebè journal is the perfect gift or keepsake. The books are of superior quality and are made to last a lifetime. 

There are 304 pages in this hard back, premium cloth covered journal with gold foil embossing on the front and back cover and also a gold foil embossed spine. Each book comes with a beautifully designed cover wrap, also gold foil stamped. The books internal pages are 227mm x 150mm, making this journal the perfect size for both documenting special moments as well as photographs. The internal pages are printed on high quality non coated 110GSM paper which lay flat for easy use.

Designed in Melbourne

304 pages printed on high-quality thick acid-free archival paper
Beautifully presented in a keepsake box, with a rose gold pen
Size of book is 233mm x 157mm
Inside pages are 227mm x 150mm
Beautifully illustrated title pages
Relevant quotes throughout the book
Clean minimalist design 
Photo pages each year
Diverse and gender-neutral, suitable for mums, dads, same sex couples and single parents
Inside pages include:

Personal details page
About the parent 
Pregnancy 
Birth Story
First 12 months (2 pages for each month)
Handprint and footprint pages
First hair lock page
Generational family photo page
Family tree - suitable for mums, dads, same-sex couples & single parents
About your family and pets
Baby and toddler section 1 to 3 years old, 10 pages each year
Baby's firsts, 2 pages
Child section 4 - 13 years old, 8 pages for each year
Funny things your child says and does for every year
Birthday questions to be asked every year on your child's birthday, from 4 to 18 years old

Adolescence section 14 - 18 years old, 8 pages each year
'A letter from me to you' every year from 1 - 18 years old
School photo portraits, photos from pre school to year 12
Christmas Santa Photos, photos from 1 to 18 years old
Group family photos, photos from 1 to 18 years old
Extra notes pages