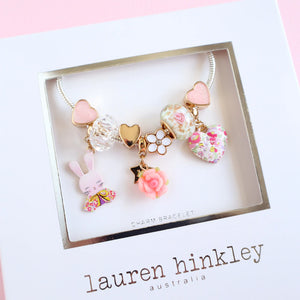 Petite Fleur Bun Bun Charm Bracelet
Sale price Price $35.95 Regular price
BunBun is your very own good luck charm. A kind and smiling bunny who watches over the wearer of this bracelet. BunBun loves flowers and colour, and if she is nearby she will always bring good fortune to those who are kind and smile just like her. This adorable bracelet features BunBun prominently with some of her favourite things, including a stunning pink flower charm and a gorgeous floral-patterned heart.
Comes with a complimentary little gift card.

Try matching this fabulous charm bracelet with our Petite Fleur BunBun Ring, Necklace, Hair Clips, and even a special matching diary to keep all of your secrets safe.
Charms are gold and silver plated base metal, some with enamel coating, resin charms, glass charms. The chain measures 15cm plus extension chain.
The charms do not come off this bracelet so are safe for children 3 and above.
Do not wet the charm bracelet or swim with it in the ocean or swimming pool.