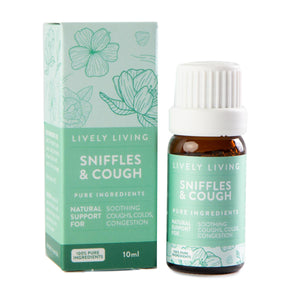 Sniffles and Cough Blend
Sale price Price $23.95 Regular price
ORGANIC  ESSENTIAL OIL 
Mother & Child Collection
ORGANIC SUPPORT FOR: 
Coughs, Colds. Congestion and Sleep
PURPOSE: 
A very specific blend using rarer oils to help soothe coughs and colds, and enhance sleep for your littles ones.
Helps to clear mucus in the nose and chest.
WHY WE LOVE IT:
The rarer essential oils used in this blend including Frankincense Carterii,  Marjoram, Thyme, Cedarwood Virginian have created a very purposeful blend which is suitable little ones.
The quick improvements in little ones health and breathing.
A beautiful blend, which supports breathing and sleeping, though have used more rarer oils, other than Eucalyptus and Lavender, which are more commonly used for these purposes.
THE BENEFITS: 
SWEET MARJORAM
(Origanum Majorana Leaf)
Is proven to help dealing with anxiety, sleep, hyperactivity and has a positive calming effect on the nervous system. For those whom do not like Lavender, Marjoran can be used in its place to help calm and bring sleep.
ORGANIC SWEET ORANGE
(Citrus Aurantium Dulcis Peel)
Anti inflammatory, immune stimulating, helpful in treatment of colds
OLIBANUM
(Frankincense) (Boswellia Carterii)
Helps boost immune system function and prevents illness, promote cellular health. Is known as the King of Oils!
ORGANIC THYME LINALOOL TYPE
(Thymus Vulgaris Leaf)
Is known to drain congestion and heals infections in the chest and throat that cause the common cold or cough.
CEDARWOOD VIRGINIAN
(Juniperus Virginiana Wood)
Has a soothing and calming effect on the mind, reduces inflammation and body aches and pains.